billy jenkins with the blues collective

sadtimes.co.uk
billy jenkins with the blues collective
- a prolonged biographical scroll.....

Other Blues Collective and Billy blues releases:
S.A.D.
LIFE
Blues Zero Two
Blues Al Fresco
When The Crowds Have Gone
In a career lasting over thirty five years, S.E.London guitar legend Billy Jenkins (born 1956) has almost obsessively ducked away from mass appeal.
From church choirs to USAF Bases, Working Men's Clubs to Billy Idol's bedroom, pub rock to high society functions, alternative comedy to solo classical guitar recitals, avant garde jazz to advertising jingles and recording studios to the international festival circuit - Billy has 'been there, done that'.
It was the blues to which BJ was attracted when first learning the guitar as a twelve year old - listening and learning from the recordings of Johnny Winter, Albert King, Brownie McGee, Sunnyland Slim, The Groundhogs and various Blue Horizon recording artistes.
In fact, a 1973 CBS demo has a sixteen year old BJ screaming out a rendition of Albert King's version of 'Watermelon Man' over a multi-layered saxophone section, using a 1940's single pick up semi-acoustic Gibson ES125.
Nowadays the guitar is a semi-acoustic Epiphone Casino - but with two pick ups.

Although art rock band Burlesque (1972-77), The Fantastic Trimmer & Jenkins (1979-81) and The Voice of God Collective (1981-98) provided the main creative outlets for BJ, he kept his hand in with the blues ethos whilst touring with drummer Ginger Baker round Europe in 1981 and playing a handful of local blues gigs in the early Eighties with guitarist and songwriter Graham Lyle.

The Blues Collective was formed in the summer of 1995 when producer Tony Messenger recommended harmonica player Gerry Tighe. The first rehearsal took place on a farm in Horton Kirby, Kent on a prophetically 'Stormy Monday' that July, with the first choice rhythm section of Voice of God Collective members Thad Kelly on double bass and Mike Pickering on drums. Dave Ramm provided deep second line organ.
Work started that autumn with producer Tony Messenger (himself a blues guitarist with a deep knowledge) on the first CD 'S.A.D.'.
The first private performance was on 14th December '95 at a Christmas Party for extremely drunk solicitors aboard the floating restaurant 'El Barto Latino' moored on the Thames at Temple Pier. The manager said to the band, much to their amusement - 'What the **** are you playing here for these bunch of shits!? You're far too good!.' Thank you very much they said.
First public performances took place at The Vortex, Stoke Newington, London N16 in January and February of 1996 with either Dave Ramm, Alex Lewis or Simon Wallace on keyboard; the man whose delicate playing on the forthcoming CD release had earnt him the prefix 'Whispering' Gerry Tighe on harp and Mark Ramsden or Mark Lockheart on saxophone joining BJ, TK and MP.
A 'Shopping Blues' Saturday lunchtime residency followed in April at the Lewisham Labour Club, S.E. London using a squad of players drawn from T.K., M.P., Julie Walkington (db), Charlie Hart (el.bass), Mark Ramsden (alto sax), Frank Mead (t.sax), Whispering Gerry, and Dave Ramm.
BJ, Ramm, Hart and drummer Martin France performed a short Blues Collective set at Lewisham People's Day in mid July.
In November a series of rehearsals coincided with an invitation (at Thad and Mike's suggestion) to guitarist Rick Bolton to join the Blues Collective. 'Saxophones ain't blues. Saxophones is jazz. Keyboards ain't blues. They're jazz too' was the possibly irrational rationale. Meanwhile BJ started working harder on his harp playing.
Oh Yeah!
1997 began with the release of 'S.A.D' [Babel BDV 9615] and a S.A.D. Season at The Vortex, at which the opening night B.J,T.K.,M.P were joined by Rick making his public debut and, as special guests - the four Fun Horns of Berlin as horn section. Bemusement was the reaction to the critical opinion of 'S.A.D.'
'A blues spoof', reckoned Rob Adams in the Glasgow Herald - 'listen and laugh out loud'.
Chris Parker, writing in The Times felt that 'the musical joke is deftly sustained throughout', although he did also say that - 'S.A.D.' should be required listening for all aspiring (and many practising) blues musicians.'
Billy was quite saddened by this misunderstanding. There were twelve tunes on the CD (one for each bar of the blues.). All were extremely personal. Some were co-written by his former writing partner Ian Trimmer and deemed at the time too 'serious' for Trimmer & Jenkins.
Micky Pick broached this matter with Billy early one morning travelling home from a gig. 'How does Annie (the mother of Billy's children) feel about you singing personal things about your relationship on stage?' 'It's got **** all to do with her', grumped the tired guitarist, 'it's a very private and personal thing between me and my audience.'.
'Ain't Gonna Sing And Play No Jazz No More' screamed the opening track. And although the VOGC stumbled on for some contracted gigs for another year, Billy was speaking the truth. He truly was becoming a 'born again' blueser.
A free concert at The Barbican in April completed the 'First Call A Team Blues Collective. Violinist Dylan Bates, who had written to BJ as a teenager asking to play with him finally got his chance - and he's been with the band ever since. Meanwhile Whispering Gerry quietly withdrew from live performance, Thad decided that the electric bass was triple the sound the double bass ever was and BJ started working even harder on his harp playing.
Touring and performing is not something that Billy particularly enjoys - in fact since 1977 after the demise of Burlesque and a two hundred plus gigs a year schedule he's been whinging and a'moaning.
So those who have seen and heard the Blues Collective in the last few years can consider themselves somewhat privileged.
Oh Yeah!
Since that April '97, when the line up you can hear on <sadtimes.co.uk> made it's debut, the Blues Collective have appeared at festivals in Austria, Germany (sometimes with the Fun Horns), major UK cities, not so major UK village halls, jazz clubs, concert halls, local radio stations, BBC Radio 4 'Loose Ends', presented several seasons at The Vortex, London N16 and performed three critically acclaimed summer seasons at the Blue Elephant Theatre August 2000 - 2 in Camberwell, South London.
Billy's blues seem to keep on growing. Dylan, Rick, Thad and Mike's blues continue too. Which is why, for the first time in nearly twenty years, Billy wanted to take his live performance band into the studio. And it is why, now you've read this, you'll understand why Whispering Gerry Tighe and Dave Ramm are present on the CD in the deep, deep background.
They're all on <sadtimes.co.uk>.
The 'sadtimes.co.uk' CD was launched at the delightful Marsden Jazz Festival in West Yorkshire on the 14th October 2000, in the middle of 'Eight Weeks In Hell' - eight shows that made up yet another Vortex season. Two days after that run was completed, the band made a hit and run appearance at the Nürnberg Jazz Festival in Germany, before starting preliminary routining on what was termed the 'Gospel album'.
Billy was becoming increasingly preoccupied with the ramifications of humanist and secular worship. The aforementioned Voice of God Collective, the name he had used throughout the 1980's and most the following decade, was indeed a reference to just that. Vox populi vox Dei (The Voice of The People Is The Voice of God) was the Platonian inspired edict - to which Jenkins added '....and the religion is music.'
Oh Yeah!
So it seemed fitting that as the band assembled at Escapade Studios in Greenwich on the 7th December that the familiar line up should be joined by original VOGC drummer Roy Dodds. This was the first phase in the building of the 'wall of secular gospel' mentioned on the back of the CD that was eventually to become 'LIFE'.
Two drummers, already two guitars and then two keyboard players were added to the mix - VOGC alumnus Dave Ramm, who had refused to play blues some time previously and taken to playing on cruise ships around the world and Perry White, a blues and jazz specialist whom BJ enjoyed playing alongside in Kit Packham's 'One Jump Ahead' jump jive jazz band. The final touch was adding sixteen voices, a balanced mixture of children and adults.
Obviously, gathering a collection about 'LIFE' took time. Having had a brisk start to 2001, with an appearance at London's prestigious Pizza Express, a live recording for BBC R3's 'Mixing It' programme, yet another six date Vortex residency and an Alternative Humanist Easter Day free concert at The Barbican, the band collected an unconscious mix consultant - as Billy was contacted by one Laura Franchi in Nottingham, whose husband Jon, a keen BJ listener, was lying in a coma after his bicycle lost an argument with a car. Jon, a musician and sound engineer, was sent differing mixes which were played through headphones to him. Ironically, at the time, the working title had changed to 'H.U.M.A.N.'. The decision was made to 'mix until Jon comes round'. Happily, by November, more thanks to brilliant medical care and the love of his immediate family, Jon had started a return to nearly full fitness and the CD, now officially called 'LIFE', was completed.
Meanwhile, the year saw two stunning concert successes at both the Cheltenham and Bath Jazz Festivals in May, a four date northern tour and the first of what was to become an annual free 'Workers Picnic' on the Victoria Embankment, alongside the River Thames in June and a launch of 'Melting Pot', a compilation CD to raise funds for a youth centre on a deprived council estate in Eltham, SE London. 'Like John Lee Said' was the track chosen to sit alongside contributions by, amongst others, singer songwriter Glen Tilbrook, the Bollywood Brass Band, poet Patience Agbabi, rai musician Abdelkader Saadoun and composer Errollyn Wallen.
Oh Yeah!
The second Blue Elephant Theatre season in August 2001 had an extra edge to it, as film director Craig Duncan, whom Billy met when Craig was assistant producer on the 1998 BBC 2 television show 'Jazz 606', filmed two of the concerts and spent many hours on extra footage. A documentary, provisionally entitled 'A Virus Called The Blues' remains 'happily on the shelf', to quote Mr Duncan – a brave statement to make, for by the end of filming, Craig was not only personally penniless, he owed thousands in favours procured for the project and was rendered homeless. A sobering mix of circumstance, economics and perhaps just a touch of the old blues voodoo left Mr Jenkins just as bemused about the film genre as he's always been. But the band enjoyed the experience and Mr Duncan had some inspired ideas. Perhaps one day it will resurface. Happily, Craig's skills have since been put to good use as he continues to direct and produce and more importantly – get the renumeration he deserves.
An hour long live interview and a couple of duet songs with veteran blues performer and broadcaster Paul Jones on Jazz FM, a three date Irish tour and a Bromley schools blues project completed the other notable events of the year.
The issue of finance, as raised by the 'Virus Called The Blues' episode, is worth looking at.
In 2001 the band was together for just 45 days, including rehearsals, mixing and overdubs – yet for bandleader Billy, it was a full time occupation. Forward planning, contracts, stage plans, composing, fund raising, grant chasing, production meetings, personnel liaison, travel arrangements, recording schedules, cash flow and so on. Other income for BJ came from a small amount of teaching, the odd freelance gig and meagre residual royalties but most of all from his partner Annie, who worked long and hard as a brilliant teacher in a Pupil Referral Unit – where the 'naughty' kids are sent.
Richard Bolton, apart from teaching guitar in several schools (by 2004 he would become a full time music teacher) could often be found playing for productions at the National Theatre, performing gospels with opera singer Willard White, or folk with singer June Tabor or violinist Pete Cooper. He also puts his top drawer cello playing to good use.
Dylan scraped along (literally) with Nigel Birch's Flea Pit Orchestra and the odd (very odd) free improvised gig.
Thad held the bass chair in various jazz combos, including Babel label stable members Partisans (but by 2003, as work in London was diminishing, had moved to the west country).
Mike was involved with teaching, both one to one and in workshops, worked as a drum playing extra on the film 'Captain Corelli's Mandolin', contributed percussion grooves to chill out unit A Man Called Adam and various jazz projects – including a performance with singer Claire Martin in Bangkok in the presence of the King of Thailand (an avid jazz fan for whom early Blues Collective pianist Simon Wallace was once court composer). He was also embarking on a five year study of osteopathy.
Oh Yeah!
From this information, one can grasp the uniqueness of the event when the Blues Collective reunite onstage or in the studio. Each member brings recent life experiences to lay on the old 'One Four Five'. Each player will find a groove or a key to give themselves to the moment. To bear witness to such creative spontaneity is a fast disappearing delight.
Once more year 2002 kicked off with a four date Vortex run, shows in Cambridge, Sheffield, Nottingham and a second Alternative Humanist Easter Day free concert at The Barbican – which all got the band match fit for a few visits to Steam Rooms Studios in London's East End, where producer and respected live jazz engineer Jon Wilkinson helped record the 'Blues Zero Two' CD.
There was a urgency and underlying restlessness to Billy's creativity and the blues kept pouring out.
'LIFE' was launched with four Vortex shows during June, the first of which had twelve brave people in the audience due to the unseasonal torrential rain that fell throughout that day.
This was yet another example of the blues voodoo which has dogged the band. Exactly the same thing had happened on the first night of one of the Blue Elephant runs. A flash flood had knocked out an electrical sub station hours before a show in Farnham. Equipment went missing before a show in Newcastle. A never known before power cut in Stoke Newington delayed a Vortex show. Rick was hospitalised with pneumonia during a run of shows and as for the number of gigs booked months in advance that end up being on the same night as a high profile televised football game..... And so it goes on. You can read more about the blues voodoo on the interviews page.
A second annual free 'Workers Picnic' on the Victoria Embankment and an appearance at Billy's local Lewisham People's Day preceded a third Blue Elephant Theatre season during August, all of which contributed to the build up for an autumnal 'Blues Zero Two' CD launch and tour.
Referring back to finance and grant chasing, the band had been fortunate to receive support from the Musician's Union for some of their Blue Elephant shows. The 'Blues Zero Two' tour received a small amount from Jazz Services, a government funded body assigned to promote the art form.
BJ began planning and organising the tour perhaps a year earlier at the end of 2001. Somehow, with the goodwill of the band's many faithful business supporters, twelve shows were booked. Jazz Services were able to offer some financial help, which some may think is an asset or even an endorsement. But the truth is somewhat different.
It ensnares the musician in bureaucracy . For the money received, one has to, in effect, underwrite promoter outgoings by providing flyers to promote. Thus, the musician is doing some of the promoters work. It must be emphasised here that many jazz and blues promoters do it for the love of the music and cannot conceivably run events for profit and not from want of trying
So by the time flyers have been printed and thousands posted around the country, the nett subsidy to each musician per gig is just £1.71.... Oh, and then the bandleader has to compile a detailed two page questionnaire about each venue...
The musician today cannot be just that.
Oh Yeah!
The 'Blues Zero Two' tour (visiting Cambridge, Bedford, Boxford, Birmingham, Brawby, Hartlepool, Newcastle, Wakefield, Halesworth, Blackheath, Leicester and Belfast) was a defining pinnacle for both BJ and the band.
The restlessness in Billy's life culminated with the 18th birthday in September of Harriet and Alice, his beloved twins. Not long after, plastic bags were filled, books boxed and unsold vinyl removed from the family nest, as he waved goodbye. He had foretold this life change in 'The Duke And Me' on the CD of this site, 'sadtimes.co.uk' (track six, verse 3).
This is part of the problem the Blues Collective faces. It is not 'pretend'.
Writing in CODA magazine the eminent jazz and blues critic Trevor Hodgett, stated the reality:
'Humorous though his lyrics can be, Jenkins isn't mocking blues music. Rather he profoundly understands the emotional truthfulness at its heart. Thus in singing in his own accent about his experiences, Jenkins is actually a more authentic bluesman than the hordes of bar bands who sing "Sweet Home Chicago", in fake accents in bars from Toronto to Timbuktu. Such bands offer pastiche: Jenkins, not withstanding his unconventionality, his individuality and, indeed, his Englishness, is the real thing.'
The sudden change of lifestyle and the enormous work load of 2002 understandably had a enormous effect on Billy and it was not until March of 2003 that the Blues Collective appeared in public, this time at the wonderful Coimbra Blues Festival in Portugal, followed by four East England shows and a special 'MayDay! MayDay!' show at the Stratford Circus, a brand new arts centre in East London. As has curiously happened several times before, within months of Billy performing at a venue, this venue closed.....
Oh Yeah!
The band then stole the show at a huge free outdoor festival in June celebrating the eleventh birthday of legendary venue The Shed in Malton, N.Yorkshire and appeared at the famous Glasgow Jazz Festival in July (where BJ mused that 'ticket prices are £30 for George Benson, £6 for us, but only £5 for Tony Bennett. We must be on the up!').
But perhaps the most far reaching event of the year was the filming of the third annual free 'Workers Picnic' on the Victoria Embankment by Philip Vallentin from Espresso Animation and crew of twenty.
Mr Vallentin, an animator by vocation and profession first came across the band at one of their Barbican Easter shows. He quickly became yet another supporter and patron saint as, over the course of fourteen months of discussion and location research, he created the wonderful concert footage that became 'Blues Al Fresco', which was released on DVD in June 2004.
Diversification in lifestyles and musical projects by all band members kept the Blues Collective silent for the second half of 2003, save shows in two towns just north of London, Radlett and Bedford – where a small pocket of fans loyally help keep the flame alive.
Oh Yeah!
And how that flame exploded early in 2004 with a St Valentine's Day Special
on the Ballroom Floor of the Royal Festival Hall, with the 'A' team joined
by a three piece horn section (Jason Yarde, Ingrid Laubrock & Mark Bassey) and singer and BBC R2 presenter Janey Lee Grace, attracting over 1,000 people.
Public performances with the classic line up of Billy, Dylan, Richard, Thad
and Mike now seem to be somewhat rare - although they managed to meet a year to the day to launch 'Blues Al Fresco' at their fourth annual free 'Workers
Picnic' at the Victoria Embankment Gardens and perform with or without Richard in Colchester, Radlett Blackheath and Boxford.
July shows at Lewisham People's Day had Steve Morrison on second guitar and Al Richardson on harmonica, and for the Ealing Blues 'n' Roots festival, drummer Paul Clarvis joined Dylan and Thad.
Travel shy or not, August and October found Billy in Belgium, where, with Antwerp guitar terrorist Mark Somers and Thad Kelly they played six Belgium Blues Collective shows, some with Pieter van Bogaert or Niels Verheest on Hammond organ, Cesar Jansens or Marc Descamps drumming and young trumpet sensation Sam Volmanns.
An acoustic Billy, with Steve Watts (double Bass) and Dylan appeared once more during the London Jazz festival on the RFH Freestage in November as part of the Babel Label 10th anniversary concert - this time to even more people than the Valentine's Day Special - as the countdown to the new year release of Billy's solo blues CD 'When The Crowds Have Gone' got underway.
It is quite ironic, now that the critics have realised BJ isn't 'spoofing the
genre', there is not only less market confidence in 'loose cannon' music making and creative artists per se, but also a personal inertia towards stage performance with Jenkins' reluctance to travel much and the disfranchisement
of artists, like Billy, who have no wish to compromise their vision by embracing the media and broadcast genre.
Oh Yeah!
The new year of 2005 dawned with an extraordinary statement posted on The Times Online website. With 'Crystal ball at the ready', writer Richard Hart proclaimed that 'there's nothing quite as thrilling as discovering new, uncharted acts'. Mr Hart then cited Billy saying, 'After 34 years in the business, could this be the year for the blues bard of South London?''
Was that not what both the Melody Maker and The Sun trumpeted about BJ and Burlesque back in 1976!?
Bolstered by the suggestion that he'd been described as 'new and undiscovered', January found Billy busy recording with fellow guitarist Steve Morrison, as they stockpiled a whole bunch of what was now becoming 'Here Is The Blues!' material and the first live performance of the year (1st February) was a solo set at The Spitz in London's East End.
Reviewing the show for the London Evening Standard, their revered (by Billy as he is one of the few jazz critics who actually criticises) jazz critic Jack Massarick wrote:
"Solo-guitarist Jenkins gives modern urban blues a volatile twist. His throwaway humour barely conceals a volcanic inner rage, and a recent combination of marital difficulties and financial hardship had lent extra vehemence to his act.
Ranting about poverty ("My new campaign is to earn enough money to pay tax") and the chore of working without a band ("Don't leave, sir, I'm going to play an F major-seventh chord in a minute") - he enlivened each song with adroit guitarisms in styles from Muddy Waters to Wes Montgomery, cutting short each dazzling burst with a shocked face, like a ventriloquist whose dummy has just said a rude word."
So, business as usual onstage, then - (show) business he no doubt repeated two days later at another solo performance at Bedford's Bowen West Theatre.

The 'electric twang guitar' duo of Morrison and Jenkins then made their formal debut as 'Here Is The Blues' with a brace of near sold out shows in the spring at the Broadway Theatre in Billy's home turf of Lewisham, SE London.
April saw the first sightings of the year for the 'A' team Blues Collective in Coventry, Wakefield and The Shed in N.Yorkshire - plus a quick return to The Spitz for another solo show as part of their Festival of The Blues.
With the CD 'When The Crowds Have Gone' formally and finally released on Babel, playing solo was the year's re-occurring theme, although for a live hour long broadcast celebrating The Shed's 13th birthday party on BBC Radio York in June, top session saxophonist Snake Davis joined BJ for some rebel rousing blues.

Back in London four days later, solo Bill made his first appearance at the New Vortex in Dalston, London N16, whilst the reviews started a'coming in for the Pete Bennett produced 'When The Crowds....'.
Writing in The Times, John Bungey described it as "A mood of middle-age melancholia. His darkest record yet."
It was a 'Blues CD Of The Week in The Observer and a 'Blues CD Of The Week' in the Birmingham Post, as Jenkins continued to divide, delight and confuse the critics.
Others said it was 'troubled and honest', 'not for the faint hearted', 'utterly compelling' and ' a perverse pleasure, but a pleasure nonetheless'.
But despite a superb PR campaign and a couple of plays on BBC R2 and R3, sales were minimal, as all CD sales continued to implode with the growth of downloading and the essential need to get the product placed on television - and we know Jenkins remains indifferent to that medium.
The fifth consecutive free 'Workers Picnic' at the Victoria Embankment Gardens not only doubled as Billy's 49th birthday party but also introduced young alto saxophonist Nathaniel Facey to Billy listeners. Taught by Jenkins at the Royal Academy of Music and raised in the same part of town, Facey has a ferocious and troubled sound and talent. Backed up by Dylan Bates, Steve Watts on double bass and Mike Pickering, the saxophonist touched one and all, as he did a few days later when, together with Bates, Watts, Gail Brand (trombone) and Charles and Riley Hayward (drumkits) they unleashed a madcap set wholly fitting to celebrate the 21st running of Lewisham People's Day.
Oh Yeah!
The issue of contemporary marketing and it's complexities not only affected the new CD.
'Here Is The Blues!' booked in for a five date mammoth 70 song cycle in August back at the Blue Elephant Theatre. The venue's full time administrator and PR dynamo Jasmine Cullingford beavered away, complimenting continued press work by Peggy Sutton, whose brief was to promote the new release. Meanwhile Billy associate Peter Cordwell and Babel boss Ollie Weindling worked tirelessly promoting by word of mouth. In effect, four Press Officers and yet, and yet....
Artistically a triumph, 'Here Is The Blues!' walked away with an equivalent wage of £8.80 per hour per person for the five concert days. Never mind the intense five weeks of rehearsals, preparation and performance, or the pre-production meetings and associated costs spread over preceding months.
Thankfully for Billy's bank balance, the Brecon Jazz Festival welcomed the Blues Collective with open arms mid August for an 'alternative Secular Sunday worship', with a good fee and SOR notices outside the Guild Hall.
Why is Mr Jenkins moaning about the money?. You may well ask. Well, 35 years in the business (or 34 as The Times had it) is a long, long time to 'pay your dues' and remain 'undiscovered' (ibid.). And for someone who only performs to put food on the table, pay the bills and try to pay musicians a realistic wage, it hurts, frustrates and creatively castrates.
But then you can't buy the goodwill, love, support and care that so many people have provided over time.
Oh Yeah!
The Blues Voodoo reappeared in September, as Richard Bolton withdrew from a surreal gig aboard a very noisy paddle steamer, booked to launch the 2005 Greenwich Riverfront Jazz Festival. A kidney infection left him in hospital and the Blues Collective almost up the creek (River Thames actually) without a guitarist. Miraculously, saxophonist Derek Nash was on hand to generously keep Billy's guitar solos to a minimum.
Back down to the HITB! duo for a trio of Norfolk shows, Billy ended the year as he began. Back at The Spitz for the third and final time in 2005, but this time dueting with one man band The Legendary Tigerman from Portugal.
Oh Yeah!

Knowing 2006 was to be Billy's 50th year, a plot was hatched during the previous year by Simon Thackray of The Shed to exploit the somewhat desperate ploy that is forced upon creative artists in trumpeting such numerical milestones.
A band would be assembled to play a 'forward looking retrospective' and would be toured with proposed funding from the Contemporary Music Network. Naturally, the guitarist wanted to use the Blues Collective at its core, adding a three piece horn section led by saxophonist Snake Davis and involving 'community singing' and massed kazoo madness.
The idea of using kazoos emanated from the East Ridings of Yorkshire, where 'Tommy Talker' or 'Wiffin Wuffun' bands used to exist around the start of the 20th century. They were formed as pastiche bands, poking fun at the more professional brass bands by ad libbing and satirising the repertoire and were very popular at fetes and parties. This always intrigued Billy, for here, he felt, was surely the birth of 'jazz'. In Yorkshire, England. Not New Orleans, USA.
And as the tour was to be a Yorkshire initiative (albeit The Shed is proudly in North Yorkshire) it had all the elements for a perfect night out. Unfortunately, the CMN didn't see it that way and turned the application down (as is their right - these bodies get flooded with many worthy projects). However, the then head of CMN Beverley Crew kindly put in a word to Andrew Herbert at Yorkshire Arts, funded by the Arts Council of England.
But as it happened, the muse was making mischief and Jenkins went volte-face and declared to Thackray that using the Blues Collective was 'regressive' and proposed a new six piece ensemble, one which performed in embryonic stage at the Lewisham People's Day the previous summer.
So it was the now named 'Songs of Praise', with Nathaniel Facey (alto saxophone), Dylan Bates (violin), Gail Brand (trombone), Oren Marshall (tuba) and Charles Hayward (drumkit) that was submitted to the ACE in the hope of securing funding to tour it during Jenkins's half century 'celebrations'.
The first live blues of the year broke out live on air in mid January, as 'Here Is The Blues!' joined broadcaster, writer and critic Ben Watson on his 'Out To Lunch' show at Resonance FM - with both Billy and Steve Morrison performing acoustically for the first time. The hour long show has been archived on the podcast page at www.artofblues.net.
Meanwhile, north of the border in Edinburgh, drummer, bandleader and composer Tom Bancroft who took the drum chair for Billy's 2003 Glasgow Jazz Fest (where critic Rob Adams, reviewing that show in the Glasgow Herald was inspired to describe the guitarist as 'the wayward master of the woebegone') was plotting a children's show suitable for jazz festivals.
And so it came to pass, there was Billy onstage at the prestigious brand new multi-million pound 'The Sage at Gateshead' concert hall playing and sort of singing the blues. With his hand up a glove puppet. For he was singing on behalf of 'Shitey', Sooty's less know twin brother. And there was a suspicion that the puppet went down better than his minder....
April Fool's Day found a solo Bill in Bangor, N.Ireland opening for composer and kindred spirit Brian Irvine and a week later the Blues Collective took to the stage for the first time that year at the Redbridge Book & Media Festival in north east London.
Never was the secular soap box preacher more pumped up than in the 1902 Arts & Craft Redbridge Memorial Hall, where Jenkins, having provocatively set his musicians out at floor level, stood firm in the heart of the building and delivered a musical sermon that resonated off the red brick walls and stained glass windows deep into the modest but rapt 'congregation'.
In attendance was journalist Peter Cordwell who noted that Jenkins was 'was energy personified in one of his other incarnations, taking on Murdoch and God but not necessarily in that order, his Blues at Ten striking like Dylan's 'Chimes of Freedom' for the secular, the individual and, perhaps most important, for musician who, like the poet and the painter, is far behind his rightful time'.
It was to be the first of what was becoming a regular concept. Especially tailored themed programmes, this one being 'The Media Gives Me The Blues'.
The jazz media, meanwhile, seemed to be giving glove puppet 'Shitey' more press than Billy, as the little git was in the gossip column of Jazzwise magazine two months on the trot, for he was up to his tricks once more for the Cheltenham Jazz Fest on May Day. You don't want to know……
The magnanimous Jazz Sage of Norfolk, Reg Simmonds called Billy to rebook 'Here Is The Blues!', together with violinist Dylan for a twilight charity show.
'As children might well be present, should I bring Shitey?', enquired Billy.
'I fully expected him to come anyway', replied Reg by email, 'and furthermore, I shall be paying him £50!'.
So it had come to that. 35 years in the business for Billy, struggling for realistic financial recompense and a glove puppet, who had only ever sung two songs live, cops fifty quid – just like that!
Thankfully, normal blues service was resumed for Steve and Billy back at Brooks Blues Bar in west London three days later, where a jam packed crowd welcomed back the duo to one of the wonderful 'door money' venues hosted with such charm by Ann Rosenberg and Tony Bell.
Meanwhile, the bandleader had been carrying a rather large cloud over his head. Simon Thackray had set up five dates in the autumn for the 'Songs of Praise' band, but throughout the summer, Billy did not know whether the funding application would be approved, so it was uncertain whether the tour would make money or, in fact, cost him dearly. It was unpleasant weight to carry as he approached this paltry but psychologically important birthday milestone.
For his birthday party he held the sixth consecutive free 'Workers Picnic' at the Victoria Embankment Gardens and his 'presents' were saxophonist Nathaniel Facey, guitarist Steve Morrison, double bassist Steve Watts and long time VOGC and Blues Collective associate on the drumkit – Roy Dodds.
Then came the surreal 'green carpet' premiere of 'Ain't Going Yet', a film about lawn bowls made by the aforementioned Peter Cordwell and film maker Dave Eyre. The Blues Collective provided the title track from their 'LIFE' CD and Billy the narration.
Back to 'normal' activities, the Blues Collective flew over to the Wiesen Jazz festival to celebrate not only their 30th anniversary, but Billy's twenty fifth year of appearing there – having first visited the wonderful Franz Bogner and his loyal friends and family in 1981 with Ginger Baker.
Dylan missed that show, as he happily took a two and a half month theatre project. Meanwhile, Mike Pickering sweated on exam results having just completed his five years of osteopathy study and 'rhythm guitarist' Richard Bolton was just happy to finish another complete year as a secondary school music teacher and pretty much stole the show.
But did Herr Bogner know he was playing with fire when he insisted the Blues Collective should play? For, guess what – the jazz festival, after three decades of triumphs, went into liquidation later in the year.
Blues Voodoo? You decide……

Bass player Thad Kelly notched up 40 years in August with a two day private festival cum party hosted by Thad and partner Helena on their small holding aside the River Severn. Here he was able to sit back and appreciate the Blues Collective from the comfort of a front row seat as Billy kicked an ad hoc band through what was decided by those present as a 'highlight of the weekend'. Joining him onstage were guitarist Denny Ilett, flautist Eddie Parker, Mr Watts on double bass and Mr Pickering on the drums.
Once more, like the Arts & Craft hall at Redbridge, the marquee where the musicians played seem to bring the evangelical out of the front man. He may not tread on so many stage these days, but when he does, his feet are firmer and back straighter than ever.
It must be stated that for Thad to reach 40, carrying the degenerative effects of muscular dystrophy, was indeed a wonderful thing. No one knows how much longer he can play.
Let it be said again - the Blues Collective is not 'pretend'!
At last the good news came through. the Yorkshire Arts and Arts Council of England agreed to underwrite the 'Songs of Praise' tour and in October and November the band hit Sheffield, Gateshead, The Shed in N.Yorkshire, Leeds and ending up at The Spitz in London playing a mix of Billy's Voice of God music and the blues, once more with a themed programme – this time as a chronological musical autobiography, which began and ended with blues.
Previewing the tour in the Metro newspaper, Mike Butler described Mr Jenkins thus:
'The Victor Meldrew of avant-garde jazz and, more recently, blues, he makes people happy by playing the perpetual grump. But look past the belligerence and you'll find unexpected tenderness and outrageous behaviour, his guitar playing erupting in nervy spasms'.
And reviewing the show at The Shed for the Yorkshire Evening Press, Charles Hutchinson, noting the mix of scored and 'felt' music wrote:
'The blues won't leave him, however, even when avant-jazz flirts so provocatively with him'.
Oh Yeah!
The blues certainly won't leave him, but there wasn't too much blues to be heard from the Bard of Bromley in 2006. Was it because his mantra, when asked how he was finding life in general was to reply 'I am at peace with the world'?
One small piece of unfinished business that was laid to rest was the appearance on Youtube of Craig Duncan's 2001 documentary 'A Virus Called The Blues'. Neatly edited into three episodes plus a two minute promo short, it may have cost the mercurial Craig an arm and a leg in favours, but it deserves to be in the public domain. With the value of hindsight, Mr Duncan wisely calls it a 'spoof'. The trouble is, it was made so long ago, all parties involved have forgotten what is real and what is not quite as it seems…..
Also making its way onto the internet were five separate tracks by 'Here Is The Blues!', filmed at their 2005 Broadway Theatre shows in South East London. They can be viewed on the video page at www.artofblues.net.

How fitting that Billy's last appearance of the year was another themed blues show.
It took place on 7th December at Lauderdale House, Highgate in north London, the very same building which only hours before had played host to the wake for the radio active poisoned former Russian spy Alexander Litvinenko.....
Laying Richard Bolton off, due to the delicate acoustic, Billy led Dylan, Thad and Mike through a show entitled 'Dreaming of a Blues Christmas'. A surprise guest was harmonica player Jessica Lauren, a long time associate of Billy but one whom had never actually performed with him. She had been working alongside Thad at Ronnie Scott's with the Barb Jungr's band the previous week when the bassist invited her to sit in.
Some will remember that day for a very long time. It rained that day like it hadn't for months. A hardly ever known before tornado ripped through a North London street causing an estimated £20 million pounds of damage, several injuries and a whole host of suddenly homeless people.
What was that about the Blues Voodoo…..?
And so the beat goes on.....
Oh Yeah!

©2000 - 2007 Dick Ward



Other Blues Collective and Billy blues releases:



S.A.D.Babel BDV 9615
1996

1. Ain't Gonna Play No Jazz No More
2. Don't You Turn Your Back
3. Pissed Off Boy
4. Every Night You Turn Away
5. Where Did I Stay Last Night?
6. I'm On An Island
7. Where Are You?
8. I'm Stuck On You
9. Walking Back To Crappiness
10. Jazz Had A Baby (and they called it avant garde)
11. Give Me The Money Quick
12. Goodbye Blues

Billy Jenkins - guitar, vocals
Whispering Gerry Tigue - harmonica
Thad kelly - electric and double bass
Mike Pickering - drums
with
Dave Ramm - organ
Suzy M, Tina G - backing vocals
Peter Mead - jumior whizz kis guitar
Tony Messenger - slide guitar
The Fun Horns of Berlin
Volker Schlott - alto saxophone
Thomas Klemm - tenor saxophone
Rainer Brennecke - trumpet
Jörg Huke - trombone
PRODUCED BY TONY MESSENGER
Press quotes, secure online purchase and further information at www.billyjenkins.com

LIFE VOTP VOCD 023
2002

1. I Wanna Be Connected
2. First Day In Hell
3. My Waters Run Clear
4. There Is No Lord Up There
5. Blues Stay Away From Me
6. I Ain't Going Yet
7. Bye Bye Blues

Billy Jenkins -electric guitar and voice
Dylan Bates - electric violin
Richard Bolton - electric guitar
Thad Kelly - electric and double bass
Mike Pickering - drumkit
with
Roy Dodds - sidecar drumkit
Dave Ramm - cruise ship organ
Perry White - piano
Whispering Gerry Tighe - a whisper of harmonica
VOGC Junior League Choir
Chris Batchelor, Ella Batchelor, Georgia Batchelor, Dylan Bates, Richard Bolton, Gary J. Brady, Roy Dodds, Thaddeus Kelly, Tony Messenger, Kit Packham, Mike Pickering, Carol Tighe, Gerry Tighe, Katy Tighe, Sophie Tighe & Joe Wilkes.
PRODUCED BY TONY MESSENGER
Press quotes, secure online purchase and further information at www.billyjenkins.com
Blues Zero Two VOTP VOCD 024
2002

1. Blues Zero Two
2. This Is A Day To Forget
3. I Wanna Stay Here
4. Don't Eat That Cake
5. White Van Man
6. Down In The Deep Freeze
7. A Virus Called The Blues
8. I'm Staying In The Car
9. I Want My Tea

Billy Jenkins - guitar, voice, harmonica
Dylan Bates - violin
Richard Bolton - guitar
Thaddeus Kelly - bass
Mike Pickering - drumkit
PRODUCED BY JON WILKINSON
Press quotes, secure online purchase and further information at www.billyjenkins.com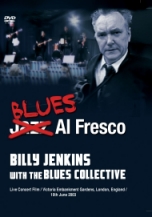 Blues Al Fresco Espresso Animation DVD 1
2004

Live concert DVD film recorded at Victoria Embankment Gardens, London, England 10th June 2003

1. opening titles
2. The Duke And Me
3. I'm Happy
4. This Is A Day To Forget
5. White Van Man
6. I'm Staying In The Car
7. There Is No Lord Up There
8. Thaddeus' bass solo
9. Jazz Had A Baby (and they called it avant garde).....
10. ....continued & credits

Billy Jenkins - guitar and voice
Dylan Bates - violin
Richard Bolton - guitar
Thaddeus Kelly - electric bass
MIke Pickering - drumkit
DIRECTED BY PHILIP VALLENTIN
Press quotes, secure online purchase and further information at www.billyjenkins.com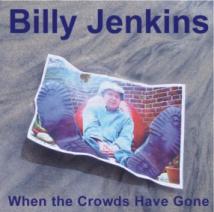 When The Crowds Have GoneBabel BDV 2450
2005

1. In My Bones
2. I Like Rain
3. Get The Poison Out
4. If I Where A Lollipop Man
5. The Tide Is Out
6. Blues Is Calling Me
7. When Money's Really Tight
8. Come Round And See Me
9. Sitting On The Dock Of Ebay
10. Trouble In Mind
11. Everything's Too Fast
12. This Room
13. Cry Your Eyes Till They're Red

Billy Jenkins - guitar, voice, harmonica
Dylan Bates - violin
Steve Watts - double bass

PRODUCED BY PETER BENNETT
Press quotes, secure online purchase and further information at www.billyjenkins.com
EVENING STANDARD 20 September 2000 LIVE REVIEW
See also EVENING STANDARD HOT TICKETS CD CHOICE
Buy any Billy Jenkins CD or DVD online now for only £9.99 (incl. p&p)
from www.billyjenkins.com